Two Students of Undergraduate Program in Craft Were Selected to Study Exchange in Spain 
Olayvia Putri Hindiarto and Clareta Milena, Craft undergraduate student, were selected to study exchanges in Spain for the SMARTEX Project. Olayvia and Clareta selected as student representatives for the SMARTEX Project. They got a chance to study abroad in Spain for three months at Universitat Politècnica de València. Olayvia will also do an internship program in AITEX (Research Association of the Textile Industry) and ATEVAL (Association of Textile Entrepreneurs of the Valencian Community).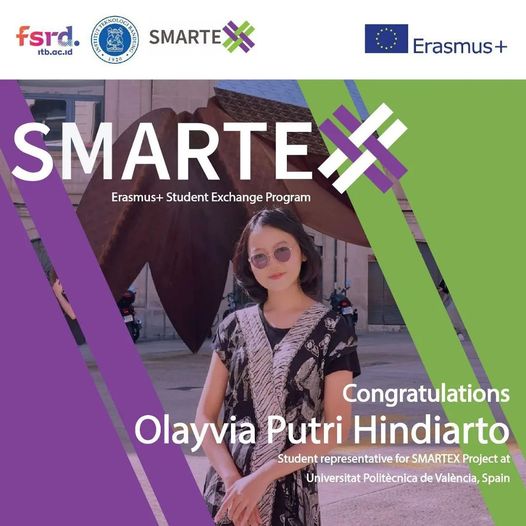 SMARTEX is a curriculum development CBHE Erasmus+ project. It involves three EU universities (from Greece, Belgium and Spain), a training and consultancy company from Greece, plus 2 Universities from Malaysia, two from Indonesia, and two from Pakistan, all having departments in textiles engineering and fashion.
The project's general objective is to support the modernization and internationalization of Higher Education Institutes in Malaysia, Indonesia, and Pakistan, in the priorities identified in the New EU Consensus in Development and the EU Higher Education in the World.
.
.
#itb #fsrditb #smartexchange #smartex #erasmus #fsrditbprestasi