Dr. Achmad Haldani Destiarmand, M.Sn.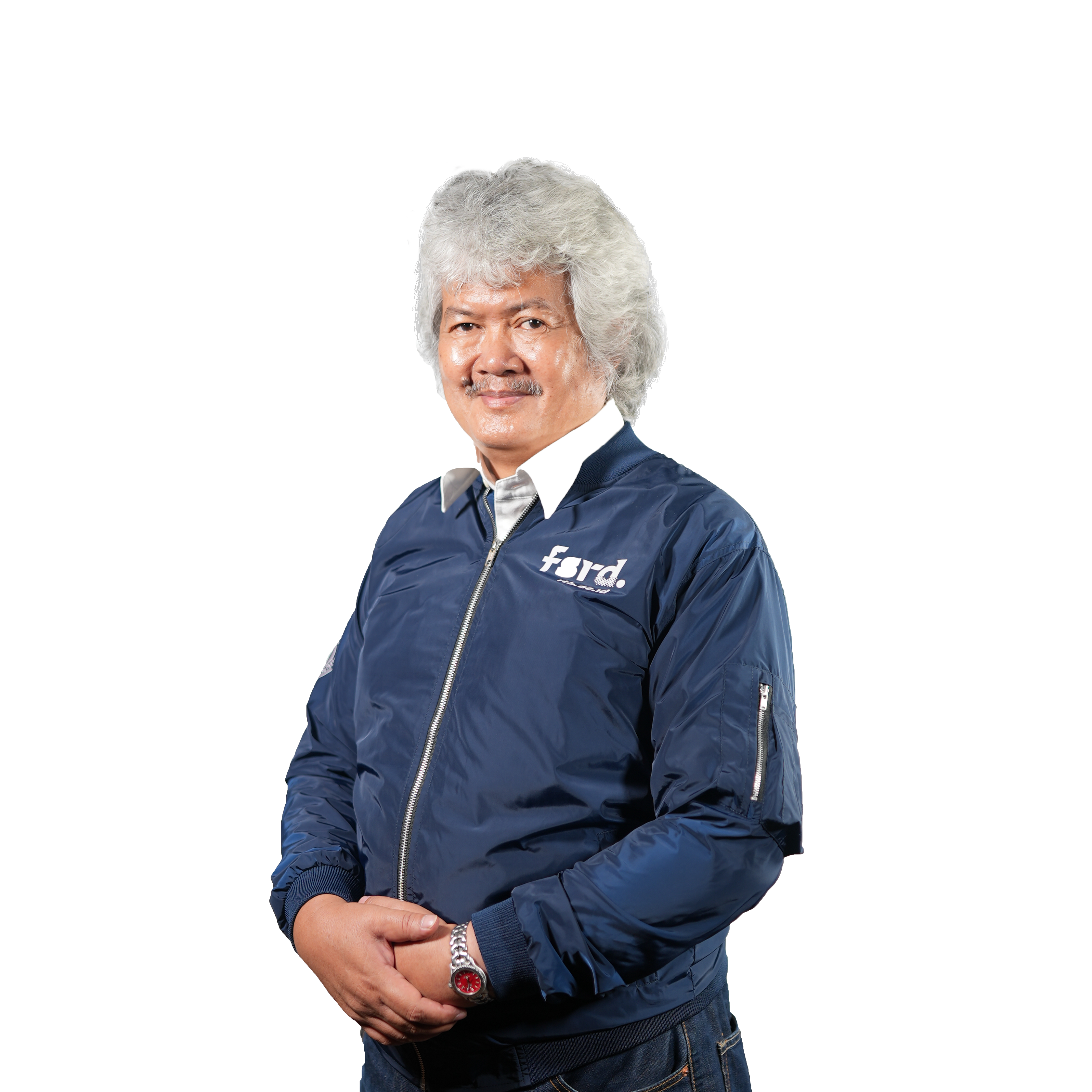 NIP 19611216 199102 1 001
Dr. Achmad Haldani Destiarmand, M.Sn. is a teacher, researcher, and artist who has an interest in the decoration and crafts of the archipelago. He completed his doctoral education at the Faculty of Fine Arts and Design ITB in 2013. Apart from being active in teaching, he is also active in various off-campus activities. He became the chief decorative designer (illumination) for the Al-Quran Mushaf Istiqlal and various other manuscripts in Indonesia. Until now he is actively researching and developing the art of manuscripts, textiles, mosque decorations, and aesthetic elements for both interior and exterior. He is also active in holding exhibitions both nationally and internationally.
Education
S1 FSRD ITB, Bandung, Indonesia
S2 FSRD ITB, Bandung, Indonesia
S3 FSRD ITB, Bandung, Indonesia
Expertise
Decorations and Nusantara Craft
Islamic Art
Art Shape and Style
History of Fashion
Research Group
Publication
Honor & Awards
Nominator Sayembara Desain Produk Nasional Tahun 1995
Juara II Lomba Seni Mushaf Nasional Tahun 1995
Bintang Ganesha Wira Adiutama 2001
Nominator dan Pameran Lomba Desain Batik Nuansa Aceh 2003
Satya Lancana Karya Satya XX (SK Presiden RI) No.71/TK/2014
Research
| Year | Title |
| --- | --- |
| 2019 | Pengaruh Modernisme Terhadap Aplikasi Ragam Hias Pada Desain Masjid Salman-ITB Karya Ahmad Noe'man |
| 2013 | Impact of Islamic Authentication Towards Roles and Functions of Traditional Ornaments in Great Mosques of Cities and Regencies in West Java |
| 2011 | Batik dan Fashion |
| 2011 | Memunculkan Identitas Daerah Baru Melalui Kerajinan Batik di Jawa Barat |
| 2009 | Peran Ornamen Lokal dalam Seni Mushaf |
| 2009 | Ornaments, Betawi Culture, and Urban Culture in The Design of Jakarta Qur'an Mushaf |
| 2010 | Fractalization Of Traditional Batik Ornaments |
| 2011 | Arabesque and Local Culture-Sundanese Visual Ornaments of The Mihrab Of Islamic Center-Pusdai, Bandung |
| 2011 | Batik and Its Phillosophical Meaning |
| 2011 | Variety of Indonesian Ornaments: Cultural Values and Their Classification |
| 2011 | Comparison of Authenticity Meaning of Arabesque a Local Decorative Variety Shape of Mihrab |
| 2014 | Transformation of Ornamental Style in Mosques in West Java from Islamic Authenticity Perspective: Case Study Great Mosque of Cirebon |
Karya
| Year | Karya Seni Ragam hias/ Iliuminasi Manuskrip Islami |
| --- | --- |
| 1990-1995 | Desainer Kepala pada Al-Qur'am Mushaf Istiqlal |
| 1996-1997 | Desainer Kepala pada Al-Qur'am Mushaf Sundawi |
| 1997-1999 | Desainer Kepala pada Al-Qur'am Mushaf Fatimah St.Hartinah Soeharto |
| 1999-2002 | Desainer Kepala pada Al-Qur'am Mushaf Jakarta |
| 2001-2002 | Desainer Kepala pada Al-Qur'am Mushaf Kalimantan Barat |
| 2002 | Desainer Kepala pada Al-Qur'an Mushaf Palembang (H. Sjaiful Bachri) |
| 1999-2000 | Desainer Kepala pada Juz Amma Berwajah Cirebonan |
| 2003-2005 | Desainer Kepala dan Ketua Tim Teknis pada proyek Terjemah Basa Sunda Al-Qur'am Mushaf Sundaw |
| 2005-2006 | Desainer Kepala pada Juz Amma Berwajah Nusantara (PT JAO) |
| 2009-2010 | Perancang wajah Al-Qur'an Az-Zaman, Penerbit Serambi Jakarta |
| 2009-2010 | Perancang 9 (sembilan) A-Qur'an berwajah seni Batik dan Tenunan tradisional Indonesia, Penerbit Mizan, Bandung |
| Year | Karya Seni Ragam hias untuk Elemen Estetik Arsitektur/ interior |
| --- | --- |
| 2010 | Perancang ragam hias masjid Bank Mandiri-Jakarta (2010) |
| 2011 | Perancang ragam hias masjid al-Ikhlas Pekalongan, Jawa Tengah (2011) |
| 2011 | Perancang ragam hias masjid Al-Huda (PT Priamanaya), Jakarta Pusat (2011) |
| 2012 | Anggota Perancang elemen estetik (ragam hias) Gd. Energi Jakarta (2012) |
| 2013 | Perancang elemen estetik (ragam hias) Gd. Kantor Pusat Bank Saudara (2013) |
| 2014 | Perancang ornamen etnik pada anjungan-anjungan di Bandara Internasional Soekarno-Hatta (2014) atas permintaan PT Gubah Laras (Dr. Pribadi Widodo) |
| 2015 | Art programmer bidang elemen estetk (ornamen Nusantara dan Islam) pada Museum Islam Nusantara Hasyim Asya'ri, Jombang Jawa Timur (2015) atas permintaan Studio dan Konsultan Desain D3M.(Dr. Ahadiat Joedawinata dan A'ing R Nayadilaga) |
| 2017-sekarang | Perancang ragam hias masjid Renovasi Masjid Raya Al-Hasan, Komp. Bumi Panyileukan, Cibiru, Bandung 2017-sekarang. |
Community Service
| Year | Title |
| --- | --- |
| 2021 | Website Development for Mapping Craft Workshop in Cirebon Area |
| 2021 | Development of Pangandaran's Batik with Natural Dyes as an Effort to Strengthen Regional Identity– Year 2 |
| 2021 | Festival dan Lomba Seni Siswa Nasional (FLS2N) |
| 2020 | Development of Pangandaran's Batik with Natural Dyes as an Effort to Strengthen Regional Identity – Year 1 |
| 2020 | Ikat Weaving Development by Utilizing Natural Potential in Tololela Village, Ngada, Flores, East Nusa Tenggara |
| 2020 | Development of Natural Dyes for Batik Loji, Majalengka, West Java, Indonesia – Year 2 |
| 2020 | Festival dan Lomba Seni Siswa Nasional (FLS2N) |
| 2019 | Development of Traditional Ornament and Product Diversification of Batik Loji, Majalengka, West Java, Indonesia – Year 1 |
| 2019 | Crafty Shoelace Workshop |
| 2019 | 2019 |
| 2019 | Rust Dyeing Workshop |
| 2018 | Drawing Competition for Kids with Disability |
| 2016 | Drawing Class for Kids with Disability |
Exhibition
| Year | Judul Pameran | Deskripsi |
| --- | --- | --- |
| 2009-2011 | Seni Mushaf Ornament Nusantara 2 | Jabar Craft Center Prov. Jawa Barat, Koleksi Tetap hingga 2009-2011 |
| 2011 | Seni Mushaf Ornament Nusantara 1 | Pameran Besar Seni Rupa Kontemporer Islami Indonesia: BAYANG, Galeri nasional |
| 2012-2013 | '29 Years After SR ITB 83 Exhibition | Kamones gallery, Bandung |
| 2013-2014 | Biennale Desain dan Kriya Indonesia 2013, | Galeri Nasional, Jakarta (Karya terundang: Inovasi ragam hias sampul Al-Qur'an berdasarkan kekayaan ragam hias Nusantara) |
| 2014 | Magnificent Islamic Art Exhibition | Galeries Lafayette |